News and Technology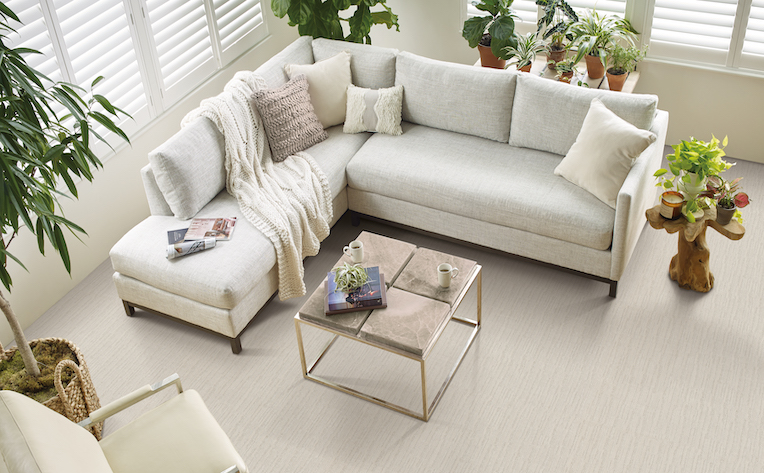 Jun 17, 2019
"I love the soft, plush feel of carpeting under my feet, especially on those chilly winter mornings — but I hate how tough it is to scrub out spills and stains! If I drop something on the floor, or if my pet has an accident, cleaning will probably be impossible. Maybe I should just choose something different, so that I don't have to worry about staining."
Do these thoughts sound familiar to you? If your answer was "yes," we have great news: thanks to advances in flooring technology, today's carpets are available in stain-resistant varieties, that make cleaning and maintenance a breeze. Read on to learn more about how stain-resistant carpet works, which carpets offer the best protection against stains, and what to expect when you're planning your budget. Then, ask the flooring experts at Flooring America how we can help bring your design dreams to life.
What is Stain-Resistant Carpet and How Does it Work?
What is Stain-Resistant Carpet?
Unfortunately, scientists haven't yet figured out a way to produce completely stain-proof carpeting. (Apparently, that's a tougher challenge than sending astronauts into space!) The good news is that stain-resistant carpet, though not guaranteed against all staining, makes it faster, simpler, and easier to keep your carpets looking as fresh and bright as the day they were purchased.
Another advantage of stain-resistant carpeting is that, since it's less likely to be ruined or damaged, you're less likely to need replacement carpets in the future. That means you save time and money — while still enjoying the cozy warmth you crave.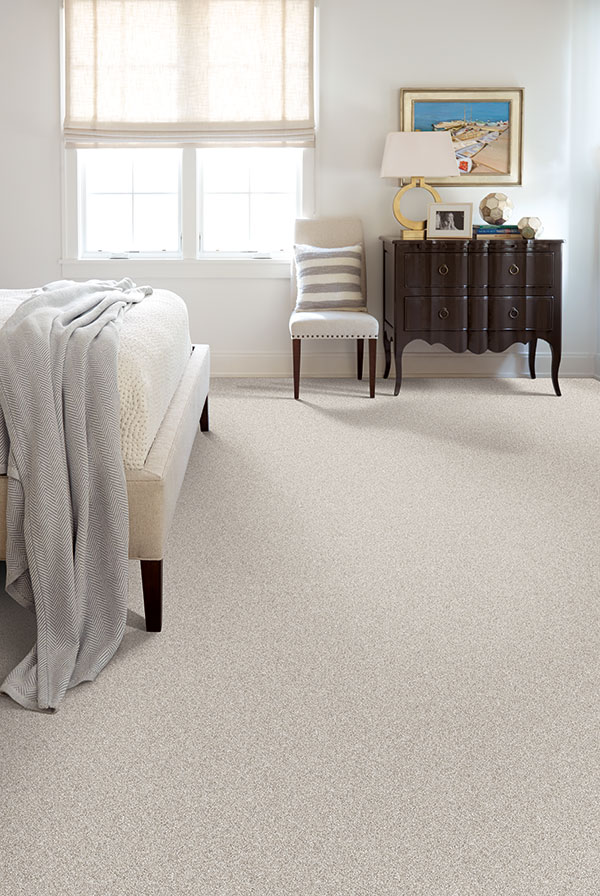 How Does Stain-Resistant Carpet Technology Work?
There's no question that stain-resistant carpeting offers superior stain protection compared to standard carpets. But how does stain-resistant carpet work? Let's take a closer look at the technological nuts and bolts that make these innovative products, so effective at protecting against spills and other messes.
Today in the United States, most interior home carpeting products are made using nylon, a synthetic "polymer" (plastic) prized for its smooth texture, waterproof qualities, and ability to withstand damage from mold or insects. Taking advantage of nylon's durability and versatility, some carpet manufacturers go an extra step during the production process, adding a chemical coating that makes it difficult for food, mud, pet urine, and other messes to penetrate the fibers through the coating.
The result? In most cases, you can prevent spills from becoming stains simply by applying soapy water before the stain dries. Of course, you should always follow the manufacturer's recommendations to achieve the best results. For example, most manufacturers warn against using bleach, which can damage the protective coating (or even make stains worse).
While most stain-resistant carpets are nylon-based, there are certainly other options to choose from — not to mention stain-resistant non-carpet options, such as luxury vinyl. Flooring America offers a wide range of fabrics and materials to help you find the perfect fit.
What is the Best and Most Stain-Resistant Carpet?
When it comes to carpets that stand up to stains, you only want the toughest, most popular, best-performing products. At Flooring America, we're proud to carry a variety of trusted, leading names in quality home carpeting.

Here are a few options to consider when shopping for stain-resistant carpets: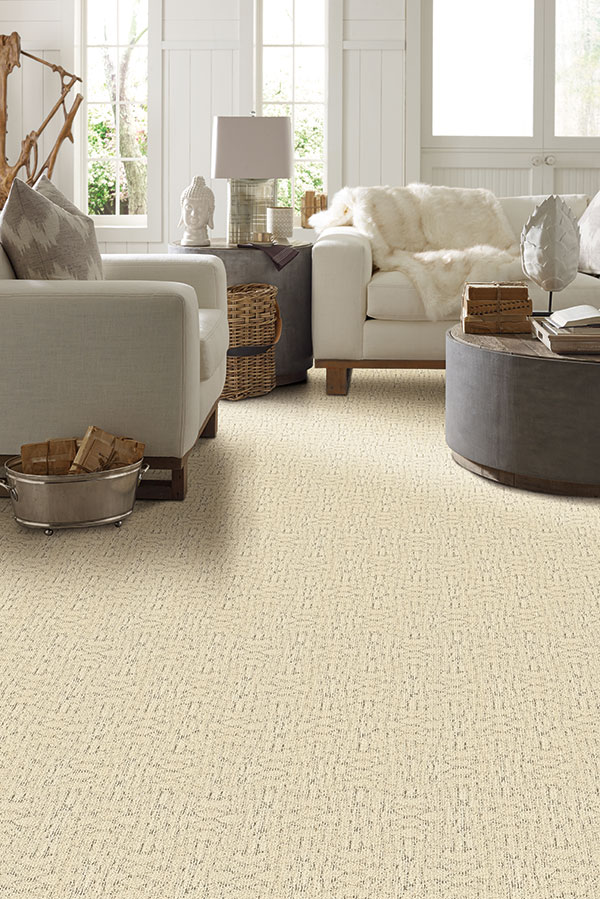 How Much Does Stain-Resistant Carpet Cost?
Without knowing the details of your flooring project, it's difficult to estimate how much it will cost, because the answer depends on how much carpeting you need and which type of product you choose. That being said, stain-resistant carpet is probably more affordable than you think!


For more information about stain-resistant carpet prices, visit your nearest Flooring America location. We'll help you compare prices, weigh options, and get a great deal on a quality product.
Find Stain-Resistant Products and More at Flooring America
At Flooring America, we're committed to providing homeowners with unique products, friendly service, and great prices. That's why we're proud to offer stain-resistant carpets , which are available in all sorts of varieties and brands that fit your lifestyle at our convenient locations throughout the U.S.
Continue Reading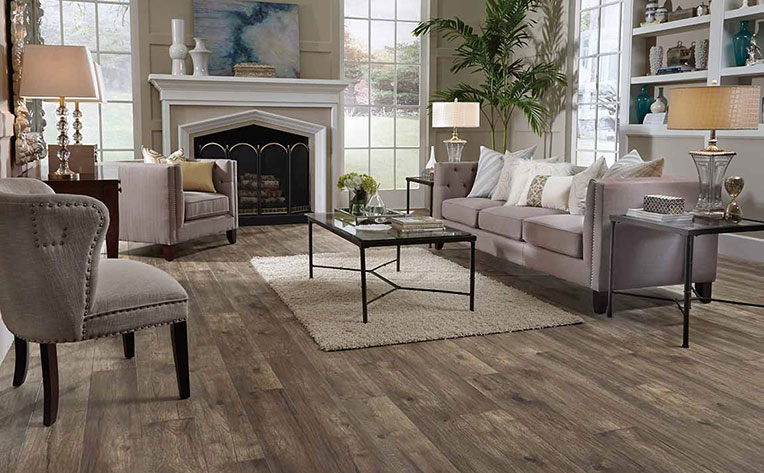 May 20, 2019
Previously, we talked about the benefits and advantages of area rugs, which include warmth, comfort, noise reduction, and protection for your floors. This time, our flooring experts are sharing a few simple tips on how to choose an area rug for your living room, your dining room, your bedroom, or any other space in your home or apartment. Whether you're a renter or a homeowner read on to get helpful, practical design advice on selecting the right color, pattern, and size for your new area rug.
How to Choose an Area Rug for Any Room in Your Home
Choosing a Rug Size for Any Room
The beauty of interior design is that no two homes — or homeowners! — are exactly alike. Everyone has their own unique idea of what makes the "perfect" area rug, depending on factors like cost, brand, and style preferences. To find the right area rug for your space, you'll need to pay careful attention to three important details:
Rug Size

Rug Color

Rug Pattern
Let's get started by taking a closer look at how to choose the right size area rug for any room in your home.
The first step to finding the perfect rug size is to get an accurate feel for the size and dimensions of your space. However, it's not necessary to measure the entire room from wall to wall. Instead, a good tip is to simply measure the area around the seating arrangement (or other area where you plan to place the rug). If you don't have a tape measure, there are plenty of phone apps to help out in a pinch!
Generally, it is good to round up from the measurements of your furniture when choosing an area rug for any room. For example, if you measured roughly 5'6" x 7'4" around your chairs and table, look for a rug with dimensions of at least 6' x 8'.
A good rule of thumb when measuring a rug for dining room seating, is to choose a rug by the dimensions of your table. If the space in the room allows, try to purchase a rug that is the size of your table plus three feet. This ensures all legs of the table are on the rug and stable, while also accommodating pulling chairs in and our without catching the rug.
When measuring for a living room, you may also want to make sure the rug is large enough to touch the pieces around it. The furniture around the rug should appear to come in contact with the rug so that it anchors the entire room. For example, unlike the dining room, the couch does not have to sit completely on the rug.
At the same time, be sure to leave at least one to two feet of space (or more, depending on your personal preferences) around the outside of the rug. After all, it's meant to be an area rug — not wall-to-wall carpeting! If a wall-to-wall look is what you prefer, there are plenty of plush, comfortable carpet options ready to be professionally installed in rooms of any size. No matter what style of carpet you are looking for, the experts at Flooring America are always here to help.



Choosing a Rug Color
Now that you know how to choose an area rug size, the next step is learning how to choose an area rug color. Sure, you could simply go with your favorite shades — and if that's your style strategy, more power to you! But for those who prefer a more toned-down or color-coordinated look, it helps to follow a few simple design rules.
For example, many style experts suggest following the "60-30-10 rule." Here's how it breaks down:
60

— Roughly 60% of your room should be the "main" or "theme" color.
30

— About 30% of the color in the room will usually be a minor or secondary color. For example, if the room's main color is blue, the secondary color might be grey or white. Choosing an accent rug with a color from this group is usually a safe bet.
10

— About 10% of the color in the room comes from little touches and accents, such as decorations, wall art, or lamps and light fixtures. You can draw on these colors for inspiration in your area rug, too.
If that seems like a lot to remember or keep track of, don't worry. With My Design Finder, personalized style inspiration is just a few stress-free clicks away — no math or memorization required!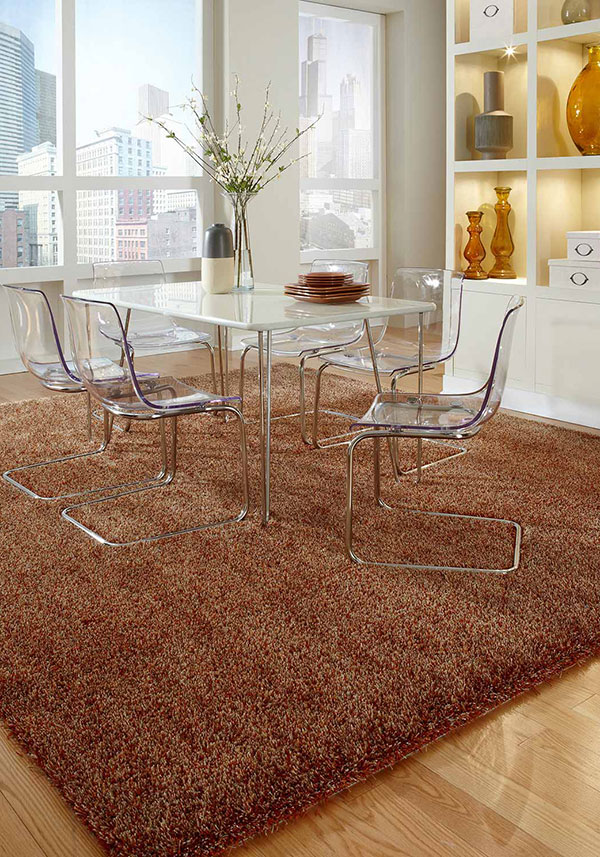 Choosing a Rug Pattern
Last but not least, you need to know how to choose an area rug pattern. Just like fashion mistakes, rug patterns can get way too "busy" — especially if there are clashing themes. To avoid visual chaos and give your eyes a break, check out the patterns, fabrics, and prints that are already in your space. If the room already incorporates patterns, it's probably best to take a muted approach — or to steer clear of prints altogether, opting for solid colors instead.
On the other hand, a bold pattern can breathe life into a space that feels like it's "missing something." If your space feels like it's lacking spirit, a fun pattern might be perfect to spruce things up while adding a personal touch. Go bold, understated, or somewhere in between. The sky's the limit with options like stripes, plaid, polka dots, and patterns inspired by nature, like bright floral patterns or faux tiger stripes.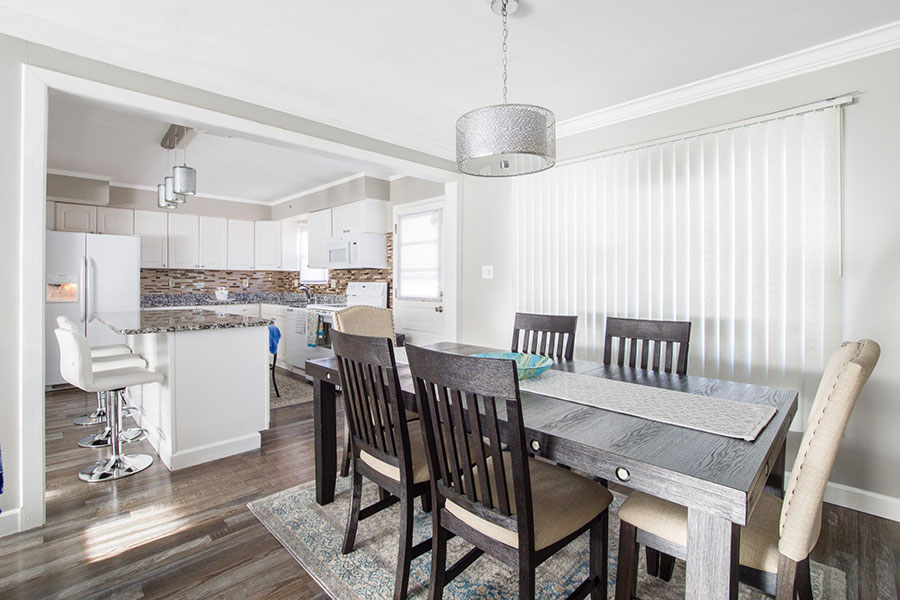 Get Area Rug Design Ideas from Our Carpet Guide
Whether you're looking for wall-to-wall carpeting, stain-resistant carpet, eco-friendly carpeting, or other plush flooring options, you'll find it in Flooring America's comprehensive carpet guide. We can guide you through every step of choosing the perfect carpet, and can even help with design and style ideas.
With convenient locations, affordable options, and quality brand-name products, your home flooring project is already off to a great start when you choose Flooring America. Contact us online today, or call us at (866) 439-6743 for friendly assistance.
Continue Reading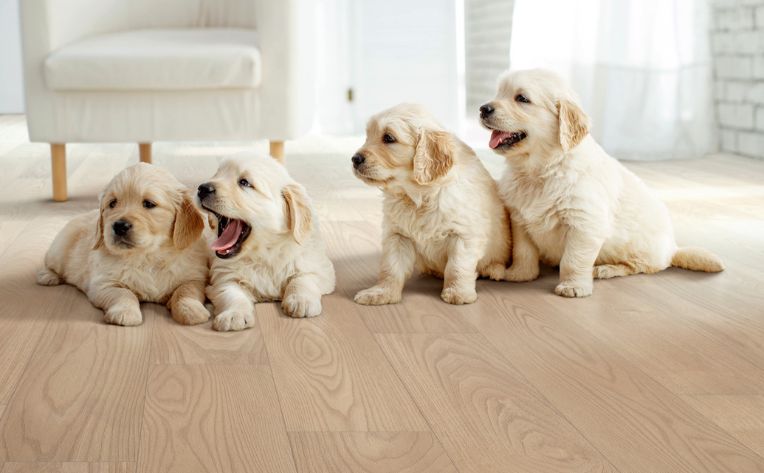 May 13, 2019
As a homeowner, you want flooring that provides comfort, offers durability and expresses your personality. But when you own pets, choosing the right flooring materials can be a real challenge. How do you keep your pet safe and comfortable, while simultaneously protecting your floors from moisture, staining, scratches, and damage?
Fortunately, the friendly flooring experts at Flooring America make it easy to find materials that are compatible with every member of your family — including Fido and Fluffy. Whether you're in search of the best flooring for pet urine, scratch-resistant flooring for dogs, or other pet-proof flooring options, read on to learn the basics and get some design ideas your furry friends will love.
What is Pet-Friendly Flooring and the Different Types of Pet-Proof Options
What is Pet-Friendly Flooring?
There are a few different factors to consider when shopping for "pet-friendly" flooring. Think about the following questions when you're comparing options:
Is it resistant to other types of damage or wear-and-tear? Scratches aren't the only source of pet damage. Stains, mud, and moisture can also take a toll, especially on hardwoods. If urine or moisture is your main concern, consider a line of waterproof products, like luxury vinyl.

Is it resistant to scratches?

Scratch marks are often a major concern for dog owners. Some scratch-resistant options include hardwoods (for example, cherry and walnut rate high on the Janka scale, read on for more details), stone tile, and luxury vinyl.

Will it be comfortable for your pet?

Pets appreciate a soft landing just as much as their owners — especially ones that like to jump! Plush, flexible flooring materials like carpet and cork offer more cushioning and support than hard materials like stone or wood.

Does it offer traction for your pet? Both dogs and cats need adequate traction, or the ability to "grip" the floor, to ensure that they can safely navigate your house. Some types of flooring provide more traction than others.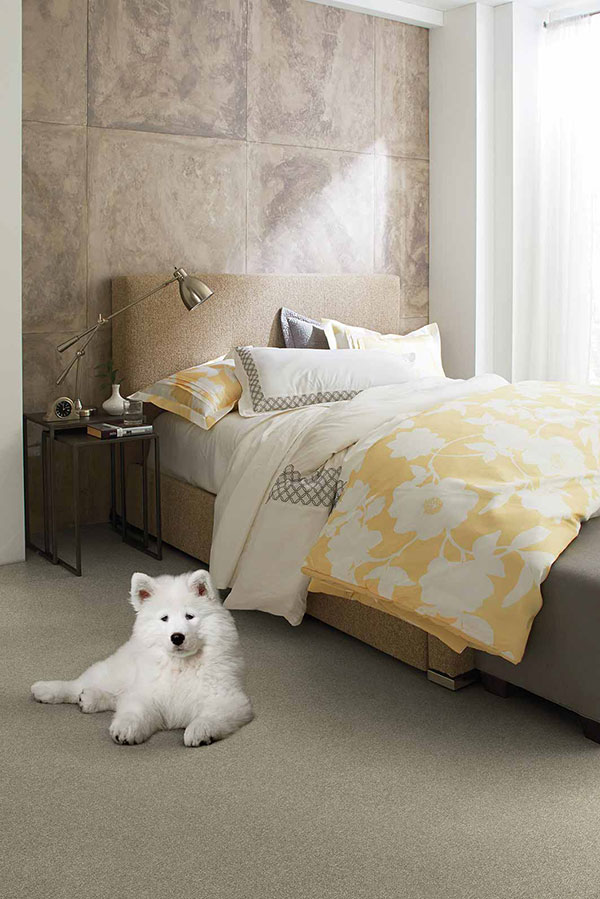 What Does it Mean for Flooring to Be Pet-Proof?
The phrase "pet-proof flooring" means that it has to be tough enough to withstand damage from urine, scratching nails, tracked-in mud, and other hazards to your home. Durable, waterproof, and easy-to-clean are the qualities in flooring that essentially make it "pet-proof". But pet-friendly flooring should not only satisfy your needs as a pet owner, but as a homeowner as well. Luckily there are plenty of flooring options that can satisfy every need, whether it is style or durability.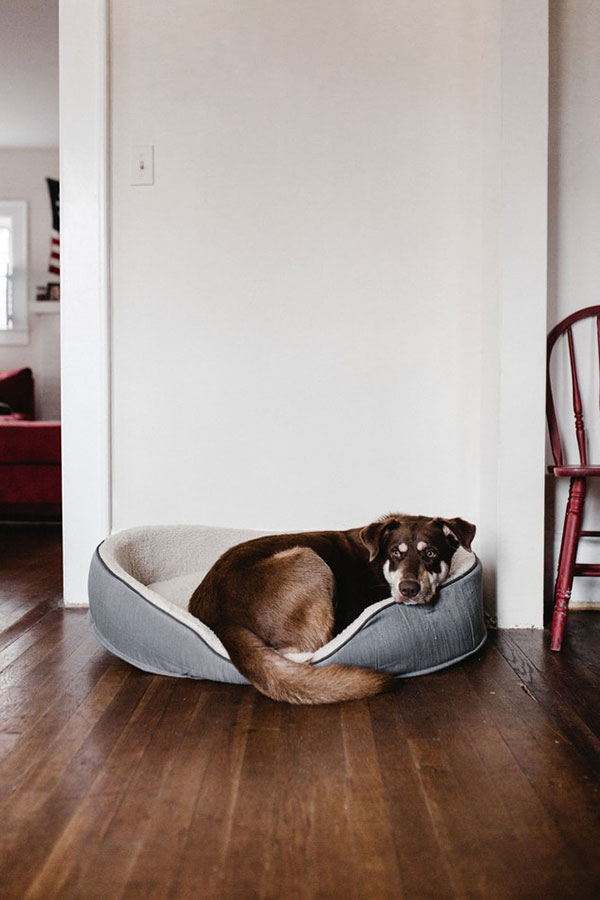 Scratch-Resistant Flooring for Pets
Pedicure, anyone? The wear-and-tear from scratchy dog nails can scar your floors for life — and burn through your wallet in the process. But don't worry: there are flooring options that are specially designed to withstand pet damage from those scratching, clacking nails. If you're searching for a scratch-resistant product, here are three options to consider:
Hardwood Flooring

— Certain species of hardwood are more resistant to scratching and denting than others. A good source to determine the hardness of a species is through the Janka scale. The higher the rating on the Janka scale the more likely the species is to hold up to pet scratches.

Luxury Vinyl Flooring — Luxury vinyl is waterproof, scratch proof, dent proof, and with the correct backing—sound dampening. This is the perfect flooring for pet owners. An embossed surface allows for traction under your pets' paws.
Stone Flooring — Stone is another easy-to-clean yet scratch-resistant flooring option, providing an elegant alternative to luxury vinyl.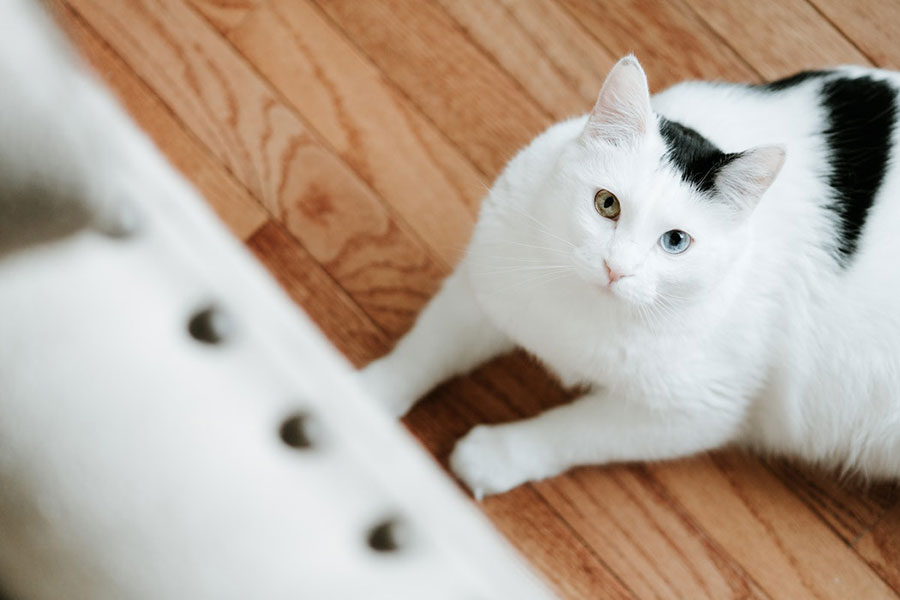 Waterproof Flooring for Pets
Accidents are a fact of life for many pet owners — especially those with new puppies or kittens. That's why all pet-proof flooring options are waterproof! Not only is this ideal for accident-prone pets; it also helps your floors withstand all those little spills and dribbles from the water bowl.
For waterproof flooring options, consider a product made with luxury vinyl, which comes in a huge range of colors and patterns. Luxury vinyl is tougher and more durable against moisture from urine, water, and other pet spills. With that being said, there are plenty of other water-proof and scratch-resistant flooring like treated hardwood, tile, and stone for every pet owner's budget and style.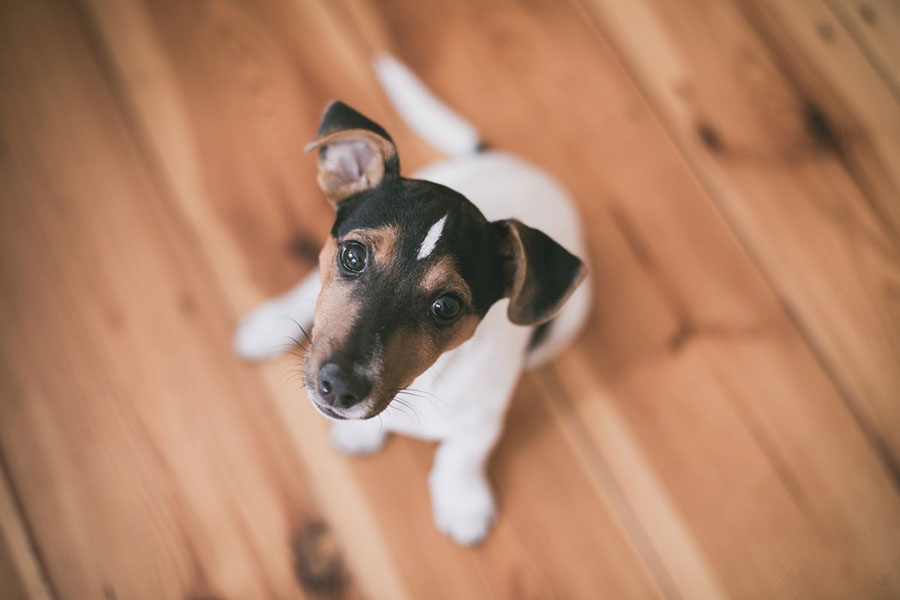 Types of Pet-Proof Options
When it comes to pet-proof flooring options, there are pros and cons to different materials. Our knowledgeable flooring experts are here to help you find the perfect balance. Depending on your needs and preferences, potential options include:
Hardwood floors
Laminate
Luxury vinyl
Waterproof carpet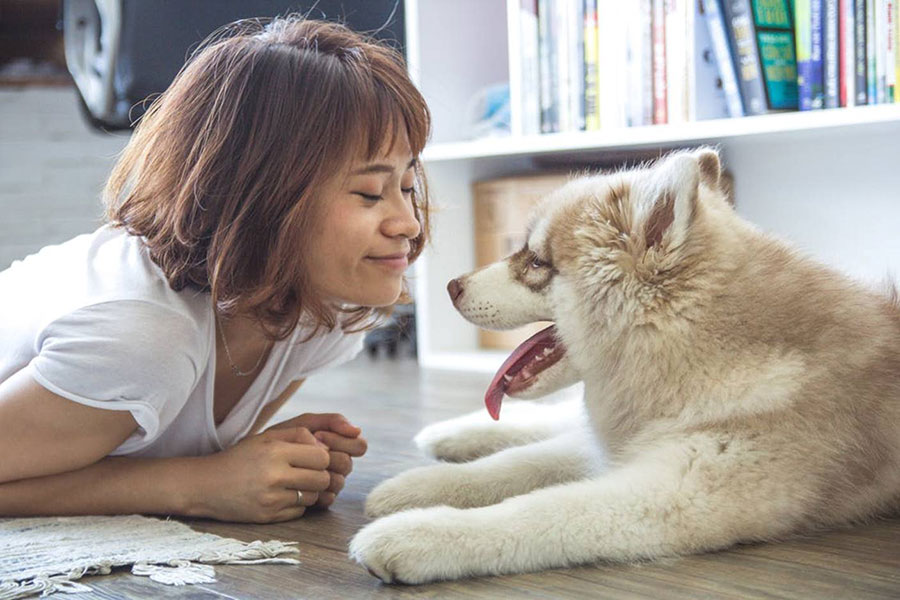 Pet-Friendly Flooring Options for Dogs and Cats
At Flooring America, we understand that your pet is like a member of your family. We're dedicated to helping you find a safe, comfortable, and attractive line of products that meets your needs — and your fluffy friend's. Whether your primary concern is preventing water damage, staining, claw marks, or all three, count on our friendly team of experts to deliver top-quality flooring for every room in your home.
You can find more information on our Best Pet-Friendly Flooring page, which will give you some pointers and tips for getting started. You can also contact Flooring America online, or give us a call at (855) 352-2837 to ask how we can help.
Continue Reading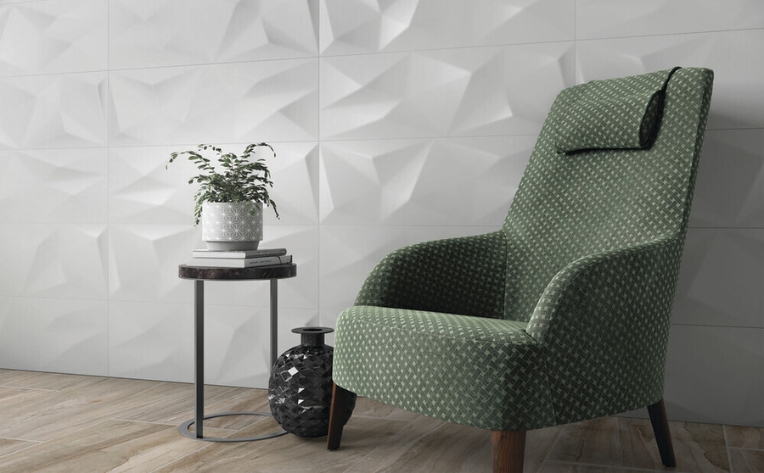 Apr 29, 2019
If you love the softness of carpets, but aren't a big fan of that "wall-to-wall" look, an area rug might offer the perfect design solution. In this article, the flooring experts at Flooring America explain what area rugs are, the purpose and advantages of rugs, and some helpful information about decorating with area rugs on hardwood floors.
What is an Area Rug and its Advantages?
What is an Area Rug?
An area rug is simply a carpet, often much smaller than the dimensions of the room. Unlike wall-to-wall carpeting, which stretches across the entire room, area rugs come in a variety of sizes, such as 5'x8' and 8'x11' being some of the most popular sizes. Some area rugs are geometric (often rectangular or circular in form), while others come in irregular, organic shapes (such as sheepskin or cowhide area rugs).
Another major difference is that wall-to-wall carpeting is fixed to the floor, requiring serious effort to remove and replace. In contrast, area rugs can be easily picked up and carried from one room to another. This lightweight, portable quality — plus their huge variety in colors, patterns, and textures — makes area rugs a great design fit for spaces of every shape and size. Many people use area rugs to help "tie a room together," instantly creating a focal point.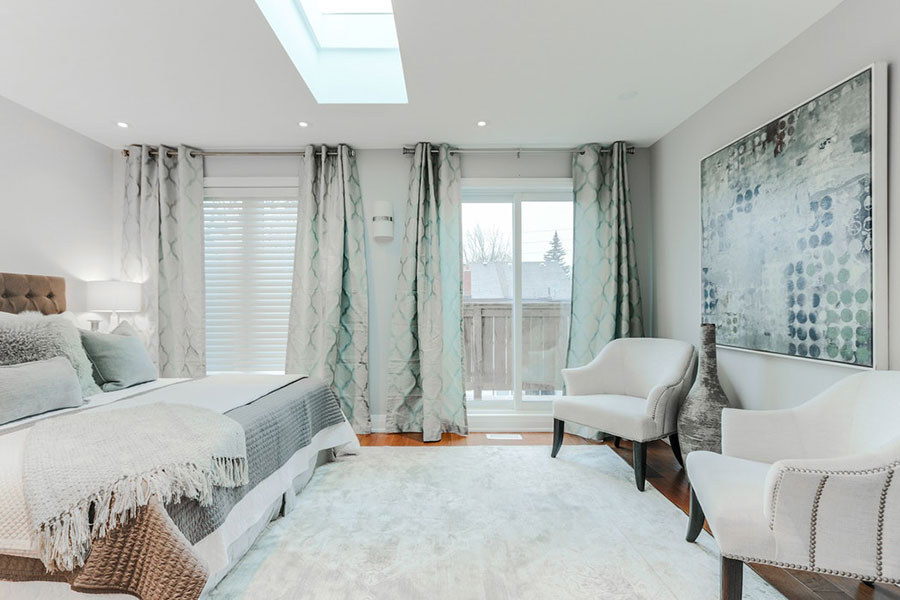 What Are the Advantages of Using an Area Rug?
Now that you know what an area rug is and how it can be used in your home, it's time to learn about some of the design benefits it can have for your space. There are a lot of advantages to using area rugs, and here are just three of our favorites:
Make your space quieter.

Rugs have a sound-dampening effect, which means that they help to reduce noise. That's a major bonus for families and pet owners — especially if there are downstairs neighbors! After all, who wouldn't enjoy some extra peace and quiet? Plus, having a quieter, more tranquil space makes it easier for you to relax, recharge, study, read, and sleep.
Protect your floors from damage.

Furniture, pet claws, and other sharp or heavy objects can gouge deep, unsightly scratches into your floors. Area rugs offer a simple, attractive solution. Since they're also lightweight and portable, they're easy to remove at any time. If scratch marks are a major concern for you, consider flooring materials like stone or luxury vinyl, which are more durable and damage-resistant than wood.
Warm up your space.

If you live in a cooler part of the country, you know how much that heating bill can hurt your wallet — especially during those brutal winter months. Heat your home more efficiently and affordably by using area rugs, which help to trap warmth and make your space feel cozier.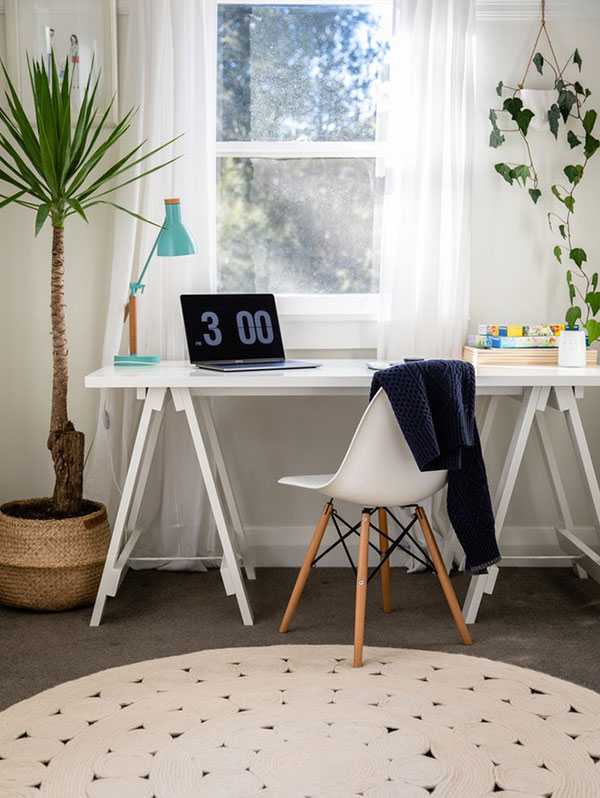 Do You Need to Use an Area Rug on Hardwood Floors?
The short answer to this question is no, you don't have to use an area rug on your hardwood floor if you really prefer not to. Just remember: even though you might not need area rugs on hardwood floors, there are plenty of practical and aesthetic reasons to consider purchasing one. If you're still on the fence, just think about the advantages we discussed in the last section, like warmth, noise reduction, and — maybe most importantly — protection against damage.
Find Hardwood, Vinyl, Tile, and Carpet at Flooring America
Not sure whether an area rug is right for your space? Then head over to My Design Finder, where you're sure to find inspiration. Simply answer a few quick questions about your taste and style in interior decorating, and My Design Finder will give you customized room design ideas almost instantly! To learn more about hardwood floors, carpet, or other home flooring products, contact Flooring America online, or call (855) 352-2837 today.
Continue Reading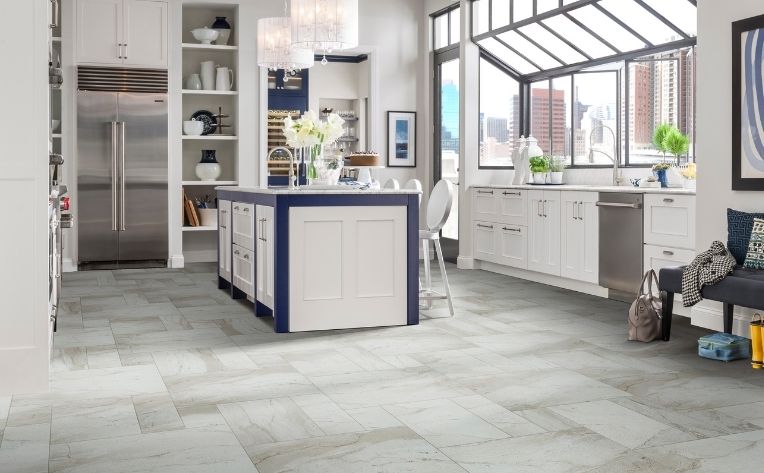 Mar 18, 2019
We get a lot of questions about waterproof flooring, and with good reason. It can be confusing to read between the lines of "marketing-speak" and really understand what you're getting when you purchase a specialty waterproof product.
What is Waterproof Flooring and Where Should I Put It In My Home?
There are many waterproof flooring options out there, but it's important to know what you're looking for and what you're looking at. But first, it's important to understand what exactly makes a flooring product waterproof and what that means for your home.

What is Waterproof Flooring?
When it comes to flooring, waterproof means waterproof -- no water or moisture can penetrate the material, soaking it to its core.
With waterproof flooring, the waterproofing is "baked in". Rather than being treated with a special coating to protect it from water, the flooring is made of a fully waterproof material. No matter how long water stands on top of the flooring, it will never soak through and the flooring will never be damaged by water.
For example, you can take a piece of waterproof vinyl or tile and fully submerge it in a tank of water for days. When you take it out, it will be as good as new.
It's worth noting that while a flooring product may be entirely waterproof, that doesn't mean that your subfloor is, too. Water, especially in large quantities, can still seep into cracks, whether that's along the wall or between floorboards, and cause damage to the subfloor below. Even with the very best waterproof flooring, if you are the victim of a major flooding event, you probably will not get away without some damage.
The good news is that when the time comes to clean up and repair your home, you can take up the waterproof floorboards and tend to any damage that happened to your subfloor. You can let your carpets dry out and replace the flooring. That's a big win over having to invest in a whole new floor.
Where Should I Install Waterproof Flooring in My Home?
From a spilled cup of coffee in the bedroom to an overturned glass of wine in the dining room, there's endless potential for stains and liquids to permeate and ruin your carpeting or flooring. Waterproof flooring to the rescue!
Waterproof flooring is especially good for any area where there may be frequent spills. Luxury vinyl flooring in the kitchen may be just fine -- even if you accidentally drop a whole gallon of milk one morning. Waterproof stone tiles or luxury vinyl may also be an ideal choice for the bathroom where the kids regularly splash at bath time. They also provide an added layer of relief in the event of an overflowed toilet (ugh) or any leaks from the sink or other fixtures.

Top Flooring Options for High Moisture Areas
Areas that see a high degree of moisture, such as bathrooms and mudrooms, can benefit from flooring designed for wet areas, such as waterproof luxury vinyl or tiles.
If you're installing tile flooring for a shower wet room, your flooring will need to stand up to water, condensation, and steam on a regular basis. With this in mind, there are additional waterproofing steps that must be taken to protect your subfloor -- even if you've chosen waterproof tiles. Using waterproof grouting and laying a waterproof membrane beneath the floor are two steps that must not be skipped if you want a truly waterproof area.
Once you understand the terms and know what you need for the different parts of your home, shopping for waterproof flooring becomes a whole lot easier. Of course, if you ever need a bit of extra help, the smart and highly trained staff at any of our locally-owned stores would be glad to give you some advice. Find your store today so we can steer you in the right direction, no matter what you need. Stay dry!
Continue Reading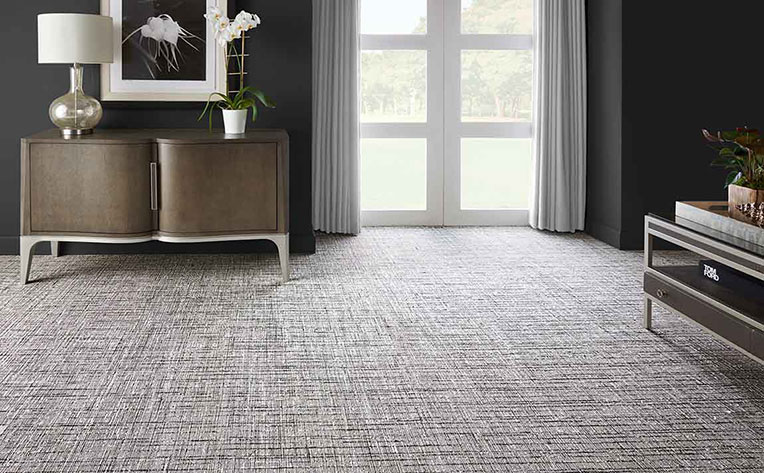 Mar 04, 2019
Whether you suffer from seasonal or year-round allergies, stepping outside can expose you to pollen and other common irritants that trigger a sinus flare-up. While there's only so much you can do about the allergens floating around outside, your home should be a sanctuary.
Hypoallergenic Carpet Options
Many people with allergies worry that installing carpets in their house could make their allergies worse, but the good news is that doesn't have to be true. If you have allergies but crave the cozy feeling of wall-to-wall carpeting, there are hypoallergenic options out there.
Here at Flooring America, we're proud to carry leading carpet brands with hypoallergenic qualities. When you're shopping for a carpet for allergy sufferers, it helps to have a wide range of choices so that you can find a carpet that looks amazing and will play nice with your sinuses. Here's what you need to know:
What is Hypoallergenic Carpet?
There is no formal industry standard for hypoallergenic carpet, so it's worth talking to a flooring expert and also doing your own research on carpet brands you're interested in to see if they will meet your needs. Carpet is inherently hypoallergenic, but there are types of carpet that enhance the hypoallergenic environment.
● What your carpet is made of
Some carpet materials are more hypoallergenic than others. Certain man-made fibers (such as nylon, olefin, and polypropylene) are naturally mold- and mildew-resistant, which can help cut down on allergic reactions.
Some natural fibers, such as wool, may have a natural hypoallergenic effect (if you are not allergic to wool!). Wool is kind of a wonder fiber that counteracts allergies in several ways. It creates a hostile environment for dust mites, and it creates less dust particles than other fibers as it wears. It can also potentially absorb harmful toxins and VOCs. (More on these later!)
● The tightness of the weave and the length of the carpet fibers
A tightly woven carpet is easier to clean than looser, shaggier carpets with thick piles. Carpets with a tighter, denser weave will trap less dust and harbor less dust.
● The amount of VOC emissions
One of the worst, and most often overlooked, allergy issues with new carpets is the off-gassing of potentially harmful chemicals produced by the manufacturing process. These chemicals, known as Volatile Organic Compounds or VOCs, can be serious triggers for people with allergies, asthma, and other respiratory conditions.
To avoid carpeting that may potentially contain VOCs, look for carpets with a GREENGUARD rating for low emissions. GREENGUARD is an independent VOC emissions standard and testing protocol that can help you choose the safest carpets for your home.

Carpet Care for Allergy Sufferers
It's important to note that any carpet -- whether it's branded as hypoallergenic or not -- must be regularly and properly cleaned in order to cut down on the presence of allergens in the home. Unlike the smooth surfaces of wood, linoleum, or vinyl flooring, the fibers of a carpet can trap and hold dust, dander, and pollen. These substances are then released back into the air when you walk over your carpet.
A strict vacuuming schedule (at least twice each week) can help, but you need a vacuum cleaner with a good filter, or you may just end up making those allergens airborne all over again. Adding regular carpet washing and shampooing to your housekeeping rotation is another great way to cut back on the amount of potentially irritating particles in your home.

Where to Buy Hypoallergenic Carpet
Brighten up your bedroom, living room or den with a brand new floor. Choosing the right carpet can help make your home a hypoallergenic haven while completely refreshing your decor.
Discovering the best carpet for you and your family may require a bit of research, but you're not on your own. The friendly experts at your local Flooring America store will be happy to help you out: all you need to do is ask! Find your store here.
Continue Reading